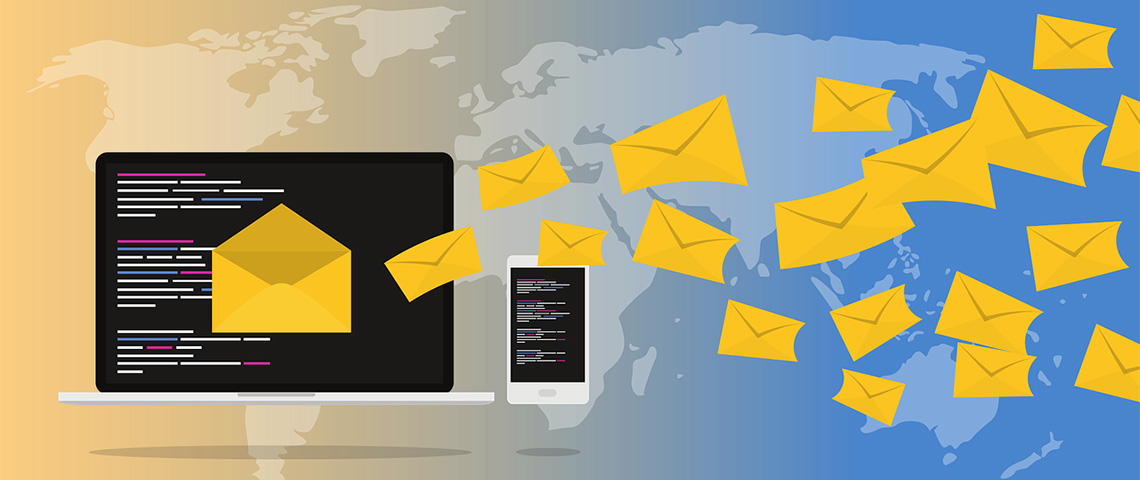 E-mail is a necessary channel to be able to register for any online service and requires little effort in its creation, characteristics that make it a favorite among users.
The number of e-mail users is estimated to reach 4.37 billion worldwide by 2023. About 92% of people use this feature, with 61% using it daily. In fact, 72% of consumers opt for email when choosing a communication channel with brands.
After all, e-mail is a decisive factor in the success of your business. Because? Because it is a direct channel between your company and your current and potential customers.
What is email marketing?
Email marketing is a powerful communication tool that, roughly speaking, consists of sending emails to a set of users previously defined as your target audience.
It is the sending of personalized emails to a specific set of people who chose to receive information about your company and who, consequently, chose to share their data with you. Thanks to this sharing, you can build a database with all the contacts and information given to you. A contact list has valuable knowledge about your audience, which you can use to build emails that are really interesting to your audience.
Email marketing is the oldest digital marketing strategy, but it continues to be considered one of the best and most effective communication resources.
Creating email marketing campaigns is the channel with the best Return on Investment (ROI) surpassing, for example, social media or paid search results.
Using a simple email, you can communicate directly with your audience and:
Publish offers and promotions;
Communicate the launch of a new product/service;
Make known any improvements in your service;
Share news through a Newsletter;
Launch an alert when a new article appears on the Blog;
Confirm a purchase in the online store.
Consult the E-mail Marketing plans we have available for your business!
Email marketing not only promotes the relationship between your customer and your brand, but also keeps your business very present in the minds of your audience. That is, email marketing helps you remind your customers of the value and benefits they can gain if they choose your business.
Do you know how to build the unique value proposition of your business? Find the answers in this article.
6 benefits of email marketing for your business
1. It has a huge organic reach.
It's practically impossible to be online without having an email address. Whether to register on a website, create an account on social networks or complete an online purchase, it is always necessary to have an active email account.
The reality is that there is no channel with a broader reach than email. Therefore, it is an excellent way to communicate with your audience.
2. It is possible to predict the impact.
Often, on social media, the algorithm limits the number of times your posts appear in the feed of people who follow your business. Therefore, it becomes quite difficult to predict its impact. However, in the case of e-mail marketing it is possible to control who can see your message, that is, if you have 200 contacts in your database to which you are going to send an e-mail, you already know that all of them will receive your message.
3. It has a flexible format.
When you send an email message, you can choose to keep it short and to the point, or you can choose to tell a longer story. You can write plain text or include eye-catching images, video, emojis, etc. The e-mail presents the possibility of delivering your message in the format of your choice, with no limit of characters, images or links. It's a great opportunity to unleash creativity and give your audience original and relevant content.
4. It has a high Return on Investment (ROI).
According to Hubspot, for every dollar invested in email marketing, there is a return of $42, which translates into an ROI of 4,200%.
When compared to other channels, email marketing does not require a large initial investment to generate a significant amount of revenue. To start your email marketing strategy, three things are enough:
a domain, so your message is delivered from a credible source;
an email-marketing tool, there are several, including free tools;
and someone to produce the content of your emails.
5. Improve your relationship with your customers.
Email is the ideal channel to communicate directly with your audience. Since they are people who provided you with their contact details and chose to receive your messages, it's a great opportunity to strengthen relationships with your audience. In addition, you can (and should) take the opportunity to send personalized messages so that your customers feel special and stay loyal to your business.
6. Helps customers with their purchase decision.
Promotional emails, emails to remind you that you have products in your online store cart, emails with exclusive discounts, the possibilities are many. The decision to buy a product is not always made thoughtfully, consumers often end up buying on impulse. And your email could be the trigger that was missing for them to decide to go ahead with the purchase.
Discover the main features of E-mail Marketing!
Plan your email marketing strategy
Before you start writing and sending emails, it's essential to plan your strategy. This planning is really important, since e-mail marketing is not about filling your audience's e-mail box with random e-mails, but about delivering the right and relevant message at the right time.
In order to plan your email marketing strategy, keep the following aspects in mind:
What is your goal?
As with all strategies, it is important to define your objectives. Your objective with the email marketing campaign may be to increase sales, publicize promotions, evaluate after-sales service or keep in touch with your customers. You can have one or several objectives for your strategy, the fundamental point is that you have them well defined, and always present, from the beginning.
Define contact list.
Goals set, how are you going to build your contact list? You need to gather your customers' contacts so that you can send them your emails. You can do this in several ways, some suggestions are:
ask them to fill out a form on your website;
offer an ebook, or other relevant content, in exchange for your email address;
directly ask them to subscribe to your Newsletter.
Remember that the important thing is that your customers agree to share their data with you and receive messages from you.
Attention to segmentation.
You cannot expect good results if you send the same email to people with completely different characteristics. For example, an email offering a discount on children's clothing makes no sense to someone who doesn't have children.
It is therefore essential to pay attention to how you are going to segment your audience and adapt the content of your messages to the characteristics of each group. Whatever the chosen criterion, the important thing is to segment in order to meet the objectives you initially set. Examples of segmentation criteria are:
localization;
age;
genre;
interests;
type of past interactions with your business (for example, whether you opened your last email);
stage of the sales funnel you are in.
Spend time creating content.
As we've seen before, you'll need someone to produce the contents of your message. Although the email has a flexible format, the creation of the content is a fundamental step in the success of your campaign. You should avoid spelling errors, images that are inappropriate for the reality of your business and titles that have nothing to do with the content of the message. These things can make your customers run away from you and stop wanting to receive your emails.
Set the sending frequency.
Depending on your objectives and the information you have to share, you will have to define the frequency of sending your emails. You can opt for a weekly or monthly Newsletter, depending on the volume of relevant information you have to give. Or, if your goal is to find out how satisfied a customer is after making a purchase, it makes sense to send an email a day or two after the purchase. There is no magic formula, there is the best fit for your goals and your audience.
Don't forget to measure the success of your campaigns!
It is very important to analyze the results of your email marketing campaigns. Usually, the most used metrics to measure the results of your campaigns are:
Delivery fee;
Open rate;
Click-through rate (CTR);
ROI;
Conversion rate.
It is thanks to this analysis that you will be able to optimize your strategy over time and obtain even better results in a future campaign.
---
Need help?
Don't miss out on this fantastic opportunity for your business. Start your next E-mail Marketing campaign today, with the support of Global Pixel.
CONTACT US!