Data from Data Report, referring to the first months of 2022, indicate that 85% of the Portuguese population uses the Internet. And it's also the same data that tells us that about 94% of user searches are done on Google. That is, even if you sell the best products and provide the best services, if your business doesn't appear in Google searches, it's almost as if it doesn't exist.
But it is not enough to appear in searches, you need to appear in a prominent position so that your business is chosen by users among the various competing businesses. And it is in this aspect that Google My Business proves to be an asset for businesses, especially at a local level.
What is Google My Business?
Google My Business, also known as Google My Business or company profile on Google, is a free tool provided by Google. Thanks to this tool, you can highlight your business in search results by creating a company profile that will be public.
According to the 2019 study by Databox, Google My Business is the second most important marketing channel for businesses, particularly local businesses.
The company profile on Google will consist of various information that characterize your business, such as:
Name;
Site;
Opening hours;
Telephone contact (through which the customer can make a direct call);
Location (which includes the area where your business operates and the address, which will then be displayed on Google Maps);
Products and/or services available.
You must also indicate to which category your business belongs and you can add a description, photos, offers, events and other updates so that your customers have access to more information and news about your business. Photos, for example, are a great way to generate a greater number of clicks, calls and requests.
Google My Business is a free opportunity to show your customers what makes your business unique and why they should choose it over other options out there.
In addition to giving your business a prominent place in search results, your business profile on Google My Business allows users to easily interact with your brand. Quickly, users can access your website, make a call, send a message, stay abreast of news and even leave an opinion about their experience with the business, product or service. This rating is made from 1 to 5 stars, and the better your business scores, the better your position will be in relation to your competitors.
Comments and ratings are a great opportunity to strengthen the relationship between brand and customer, so you should never leave comments unanswered, especially if they are negative comments. Responding to negative comments and reviews will show humility and a willingness to do better. It's something that humanizes your business and is highly valued by customers.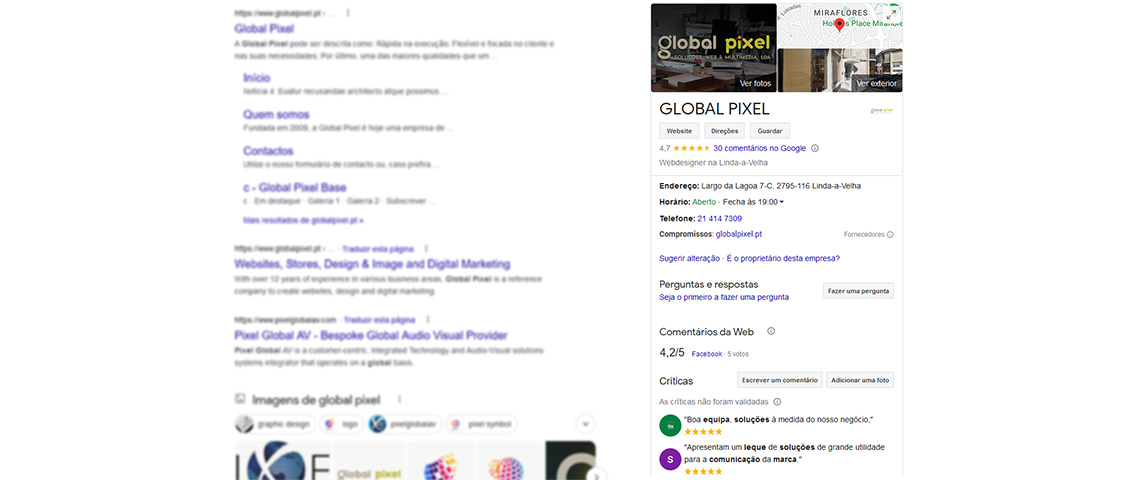 In the image above you can see an example of a company profile on Google My Business, in this case it is the Global Pixel profile, in the version that appears when we search on a computer. The mobile version contains the same information but is not as extensive.
Advantages of Google My Business
Creating a Google My Business profile for your business gives you numerous advantages.
It is thanks to Google My Business that your business will easily appear in Google search results and also on Google Maps. It also proves to be a great opportunity to manage the direct relationship you have with your customers, by publishing information about your business and also promotions, photographs, events, news, among other options.
In addition to these points, there is also the possibility of an easier, more direct and practical contact with your customers. They can call, send messages, leave feedback and get almost immediate responses, all through their Google My Business profile.
Simply put, Google My Business lets you:
Position your business at the top of Google and Google Maps search results;
Increase visibility, as it appears in greater prominence;
Highlight important information about your business;
Get more traffic to your website;
Attract more people to your physical store/office, if you have one;
Keep your customers and potential customers informed, even if they don't follow your social media, for example;
Promote user interaction with your business;
Increase brand credibility, since the company profile on Google My Business conveys greater seriousness;
Create smart Google Ads campaigns through your company profile;
Collect relevant statistics about your business and consumers;
Provide users with an easy and practical navigation experience;
Work SEO.
Google My Business Features
The functionalities available in the Google My Business profile will depend on the category you establish for your business. There are exclusive features for specific categories, such as restoration, for example.
Even so, many features are common to any of the business profiles, such as:
Add more users with permission to manage your business profile (primary owner, owner and manager options are available, each with a different access level);
Create content publications, offers, promotions, products or events;
Set opening hours (with the option to set specific hours for holidays and vacations, for example);
Allow scheduling of services;
Define the attributes of your business;
Analyze statistics on how visitors interact with the profile;
Box of evaluations and comments with the possibility of reply;
Mailbox;
Create a website for your business;
Link your Google My Business profile to your Google Ads profile.
Google My Business for Local Businesses
A business profile on Google My Business is essential if you have a local business. Because? Because it's the easiest way to improve your business' positioning in search results. And it's free!
Google's own data tells us that 76% of people end up visiting a business within a day of searching for it nearby. Showing up to people in a local search gives you more visibility for your business and puts you at an advantage over other businesses that aren't as close or don't have a business profile on Google My Business. This is because Google My Business results appear before normal search results, and may even appear in a Google Maps highlight.
Therefore, it is essential to fill your profile with as much information as possible about your business and ensure that all information is correct and properly updated, especially in fields related to location.
How does local search on Google work?
Google ranks local search results based on three main factors:
Relevance: Indicates how well a local business profile matches what someone is looking for. Filling in the complete data in the address field helps Google to identify what your company is and how it fits in the answers to the searches that were made;
Distance: Based on how far each search result is from the user's location. If the searcher does not specify any location, Google will use the device's geolocation to determine the distance between business and user;
Prominence: Determines how well known a company or business is. This parameter is based on information available on the web, the position that the respective website or online store occupies in search results, links or articles and the score of reviews left on the profile.
It is important to take these factors into account if you want your profile to appear well positioned in local search results. By following these guidelines, you can attract even more traffic to your business.
---
Got questions? Contact us!
At Global Pixel, we have a team of professionals ready to help you improve your business and bring more recognition to your brand. We help you to gain the prominence that your business deserves and capture the interest of potential customers.
CONTACT US!