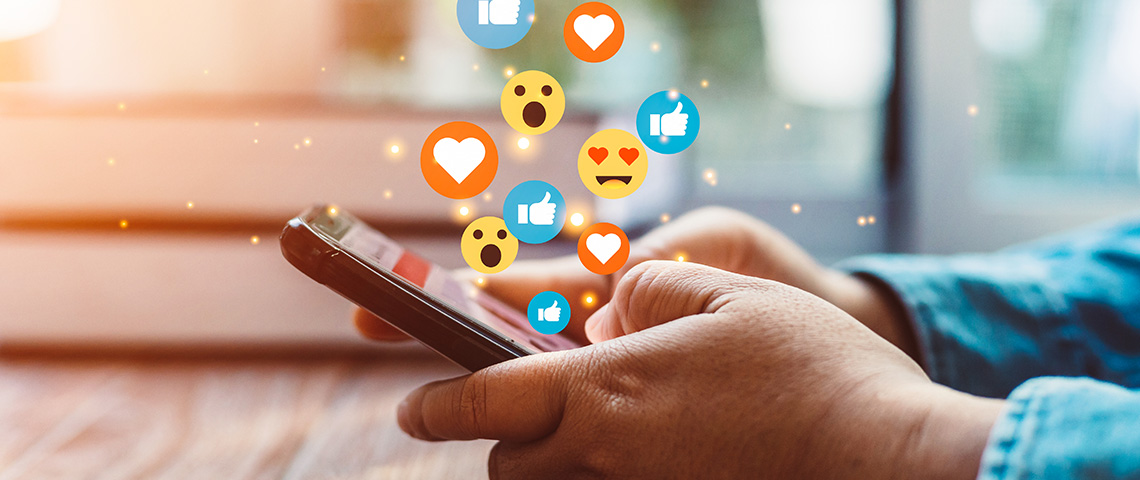 What is social media management?
Social media management is a set of actions, from content creation to monitoring and evaluating results, with the objective of optimizing online channels. Each social network is a different channel with its own characteristics and what works on Facebook may not work on LinkedIn, for example.
Presence on social media:
Increases the notoriety of your business;
Establishes a close relationship with your consumers;
Keeps your brand in the minds of those who follow you and see your ads/posts.
According to data from Marktest, a third of Portuguese users of social networks have already made purchases on one of these channels. That is, in addition to notoriety, you can significantly increase your business's turnover if you know how to take advantage of the opportunities that social networks have at your disposal. Even if consumers don't make a purchase at that moment, they will remember you when they need the solutions your business gives them.
Do you know how to build the unique value proposition of your business? Find the answers in this article.
The importance of choosing professionals to manage your social networks
There is a belief that managing social networks is easy. However, when we get our hands dirty, it turns out not to be that simple.
Social media management requires a lot of expertise, strategy and planning. Therefore, unless your company has someone dedicated to this area, you should consider leaving the management of your social networks to a team of professionals.
With a team of professionals managing your business's social networks, you'll be able to:
Have a well-defined communication plan, editorial line and marketing strategy;
Communicate assertively and consistently the message of your brand;
Achieve a good position in the market;
Stand out from your competitors;
Reach more people interested in what your business has to offer;
Create a community with your audience.
Did you know that at Global Pixel we have professionals able to manage your business' social networks?
What is the price of Social Media Management?
The price of social media management can vary greatly depending on who is providing the service and the complexity of the intended service.
In Portugal, the average price for managing social networks is around €250 per month. Even so, it is possible to find this service at a lower price, such as €100, and also at much higher prices, which can reach €1000 per month.
Regardless of the cost, social media management is a service that is worth outsourcing, even more so if you don't have an internal team dedicated to digital marketing in your company.
The cost of managing social networks will always vary, and this is mainly due to the diversity of channels and industries. The choice of professional who will manage your social networks will also influence the final bill. Generally speaking, a little-known freelancer will charge less than a digital marketing agency with a large team and a well-established position in the market.
5 main factors that influence price changes in social media management
1. Number of social media pages to be managed:
The workload and time required for the project vary according to the number of pages/channels you intend to include in the social media management service you are hiring. More pages mean more content and more time invested, mainly because each channel has its own needs and characteristics. A Facebook-only plan will be cheaper than a plan that includes two or three more social networks.
2. Content Creation and Frequency of publications:
On social networks, if you don't appear regularly, you end up being forgotten, both by the people who follow you and by the algorithm itself that stops displaying your page due to lack of relevant content.
As with websites, content is very important for the organic performance of your social networks. Creating original, interesting and useful content for your audience is one of the factors that will differentiate you from your competitors.
It is not enough to publish frequently, it is necessary to publish quality content. Creating quality content that highlights your brand and appeals to your audience takes work and therefore greatly influences the price of social media management.
3. Content type and format:
There are many possibilities available when it comes to the type of content that can be posted on social media. The available options may vary depending on the chosen channel, but, in general, all allow photography, text and video. It is advisable that you make the most of all the features of each of the channels so that your page performs better.
In the case of Instagram, for example, feed posts and stories posts have different formats, and creating these variations takes time. It is expected that if your plan includes many images of different formats, as well as videos and stories, it may be more expensive.
Creating video content, for example, is typically more expensive. This type of content involves more work and specialization, which is why many brands do not invest in this sector. Even so, this is the type of content that most favors your brand and makes your publications appear to more people. By using video content, you can expect greater engagement with your publications and also a greater return on your investment.
4. Customer Service/Community Management:
Often, social networks end up working as a customer service tool, which instead of calling, sends a message or comments on social networks to leave their opinion and clarify any doubts. If you want the social media manager to also act as a mediator and community manager, you can expect an extra price on your invoice.
Some of the customer service tasks are:
Response and mediation of customer comments on brand publications;
Comment and share publications relevant to your brand/business;
Interact with other people and pages, promoting greater organic reach.
Be very attentive to community management, especially if you are not investing in paid means to increase the reach of your business on social networks.
5. Creating and managing advertisements:
It's hard to grow on social media using only organic (non-paid) means. So chances are you want a social media management plan that includes ads for your brand. This will be yet another point causing variation in the price of managing social networks.
Creating, managing and optimizing ads on social networks is time consuming and requires a lot of knowledge and expertise to ensure you are investing your money in the right way, so it will also be more expensive.
It may be more expensive, but it will also be more beneficial for your business. Why? Because it's thanks to ads that you'll be able to greatly increase your brand's reach and boost your results. You will reach more people who can become customers and buy your products or services.
Find out how we can help your business through Facebook Ads!
How will the service be billed?
The most common is for the social media management service to be charged per month or per project. However, it is best to address this issue with the professional before awarding the service.
Billing per month:
Ideal method for any project of long character;
The client must be updated frequently (throughout the month, every month or as stipulated between both parties) on the progress of the work;
Fosters a stable relationship between client and professional.
Billing per project:
More used when it comes to a promotional campaign made punctually, for example;
Any work outside the initial plan will be charged as an additional service.
There is no billing method that is better than the other. Each client, project and professional is unique, so it will be up to each case to decide what works best for them and what is their way of working.
You can even find a social media management pricing table. However, the values of the service will always depend on several factors that, in turn, will depend on the professionals you choose to work with.
The only way to know for sure how much you will pay for social media management is to contact a traffic manager or digital marketing agency, describe in detail what you want for your business and ask for a quote.
---
In the case of Global Pixel, the social media management service is available from €135 per month (excluding VAT). This value refers to a base package. Depending on your business needs, we will suggest the most suitable plan for your case.
Payment will be monthly and the different packages have advantages for those who choose to work with us for a longer period of time. We always recommend a minimum of six months for us to be able to implement your plan and measure results, because the results are not immediate and we need time to understand what works in the unique case of your business.
To find out the price of social media management suited to your business needs, talk to us!
We are entirely available to help you find the right formula for your business!
ASK FOR QUOTE